Join us at our
Board of Directors meeting!
Please join us at Cordavino's Wednesday, April 10th, for a lunch & learn opportunity with Dr. Gregory Mason of the Shawnee College Small Business Development Center.  Dr. Mason will be discussing the SBDC and how it can help your business!
Board Members are encouraged to stay after our speaker is done in order to conduct business.  All other visitors, speakers, guests or members are welcome to leave at this time.  All meetings are open, however, we wish to be respectful of the time of our guests and members alike.
Individual VIP Sponsorships Announced!
The 41st Annual Superman Celebration is quickly approaching, and The Metropolis Area Chamber of Commerce is excited to announce our Individual VIP Sponsorship Packages!  Corporate sponsorships are right around the corner!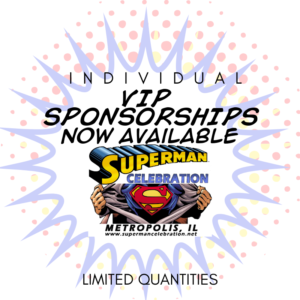 More information is available by clicking here.